I am a big time fan of the Android OS. I have used it as an exclusive mobile OS for almost 3 years now and have it on several tablets as well. One of the issues with a rapidly evolving OS though is extreme fragmentation, which is what happens when different versions of the OS are used throughout many different phones. Michael Degusta of TheUnderstandment.com put together this great Infographic on the current state of Android Fragmentation.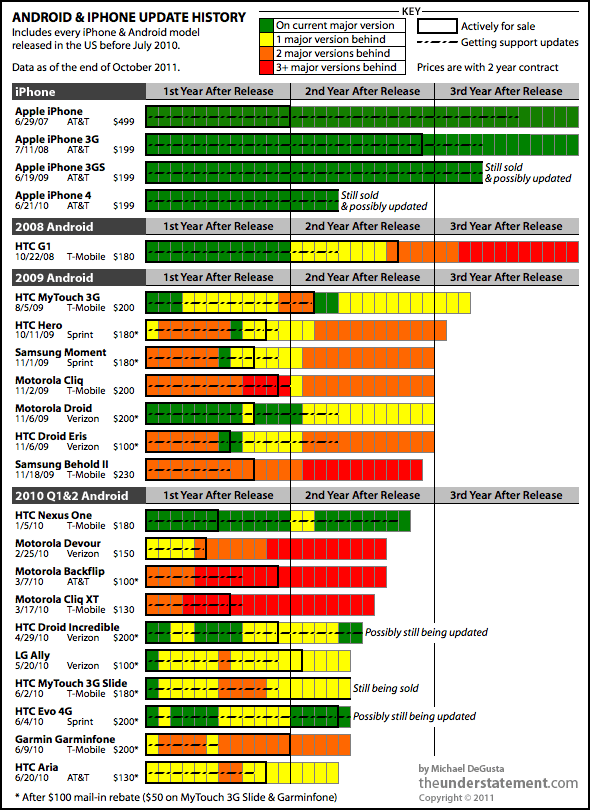 I love Halloween. Halloween is one of my favorite holidays (Thanksgiving is my other favorite)! I get to dress up, act a fool, and it costs next to nothing (outside of candy and costumes). But Halloween Express points out in this infographic that there is a dark side to Halloween.
Just because I had previously posted an infographic about some of Twitters failures doesn't mean they are the only hot technology company with a failures under their belt. Facebook has also had their share of failures as this infographic by WordStream shows.
I have always wanted to work at Google. Something about working for the company is just so appealing and I am not alone in thinking that. Jobvine put together this infographic about what it takes to work for Google. I must say I am impressed!

I have been saying for a while that college is the next bubble. In the 5 years it took me to get my Bachelor's Degree (from 2005 to 2011) the price per credit doubled (it started at $166/credit and by the time I finished it was $333/credit)!! I went to school at night as a full time professional during the day because I was not getting the opportunities that I felt I deserved. To me this rapid growth in cost is far too similar to the housing bubble from a few years ago and is one of many reasons there are people protesting all over the world in #OccupyWallSt (aka 2%) protests. Best Colleges put together this great infographic that shows the problem first hand:
It has always been a dream of mine to work at a major technology company. That dream has always been around the idea of wanting to be a difference maker in the technology world. Working for a big tech company has many benefits and this infographic from ResumeBear highlights many of them:
Steve Jobs will likely go down as one of the most innovative people of his time. It is really too bad the man died when he did. To fully understand everything he has done check out this infographic outlining the life and times of Steve Jobs from Infographic World.